CradlePoint R500-PLTE router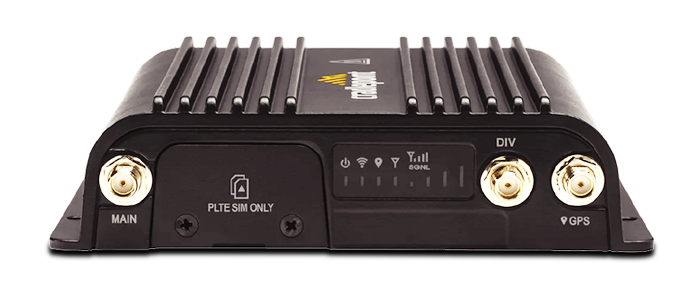 The CradlePoint R500-PLTE wireless router is a ruggedized device designed for secure cloud managed IoT networking. The purpose-built R500 comes with a subscription to NetCloud Service for IoT which provides streamlined configuration and continuous cloud, modem, and router software feature enhancements.
It features compact size, external mobile broadband and Wi-Fi antennas. Plus, it's able to operate in a wide temperature range. As a result, it's great for IoT applications like plant and machinery controls, surveillance cameras, digital signs, kiosks, and ATMs.
Features of the CradlePoint R500-PLTE
The Cradlepoint R500 has Comprehensive 24×7 support included for business critical applications. It pushes 850 Mbps of firewall throughput, and has 4G Cat 7 connectivity over WAN. It runs Wi-Fi 5, GbE over LAN.
What's the difference between Wi-Fi and LTE?
LTE and Wi-Fi serve different purposes. LTE modems are an evolution of the cellular connectivity that normally provides Internet access to your mobile phone. Wi-Fi works best for servicing wireless local area networks while LTE works well for long-distance communications and roaming. LTE is often used for temporary applications, or as backup in case of failure of the primary connection.
LTE as a temporary Internet connection makes sense because of one of LTE's advantages; it's super quick and easy to set up. In the business world, this speed and flexibility can be a short term lifesaver.
CradlePoint R500-PLTE wireless router w/ NetCloud IoT Essentials for Private Cellular Networks:
However, LTE is definitely ideal as permanent connectivity for a large variety of fixed, and mobile use cases. There could be various reasons for using an LTE router for permanent, primary Internet connectivity. Some of the most common examples would be retail stores or pop-up shops where there is a lack of wired connectivity.
NetCloud IoT Package
The CradlePoint R500 is sold with a cloud based plan called NetCloud. It is a secure, cloud based networking plan built for Internet of Things and machine-to-machine uses. It's similar to the bundles that firewalls often come with. This cloud based service adds greatly to the features and abilities of your device.
For example, NetCloud offers secure, cloud-based management and control of your CradlePoint R500. If you have any further questions about the R500, Wi-Fi, LTE, or anything else, please email us or call 877-449-0458.
CradlePoint R500-PLTE wireless router highlights
850 Mbps of firewall throughput
Centralized endpoint management with insights and visual analytics
24×7 enterprise support and limited lifetime warranty
Ruggedized for wider deployment options
WAN Connectivity: PLTE Cat 7, GbE
LAN Connectivity: Wi-Fi 5, GbE
View all Cradlepoint lines.
---
Read more