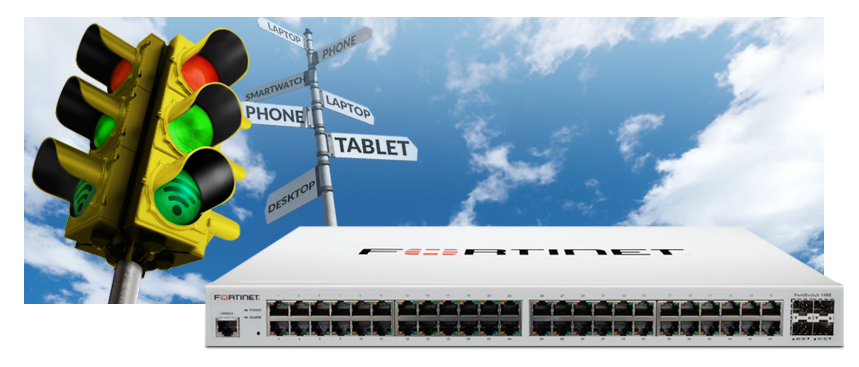 The new FortiSwitch 148E PoE managed switch is a Layer 2 (Data Link) networking appliance. We are going to look at it's performance. But, first a few words on switches generally.
A switch is a device that takes in packets (of data) being sent by devices that connect to its physical ports and sends them out again. However, it sends them only through the ports that lead to the devices the packets need to reach. In other words, switches connect Ethernet IP devices and forwards information between them.
In it's simplest form, an unmanaged switch is a fancy ethernet hub, and can be quite cheap. As such, an unmanaged switch requires no configuring. They are typically for basic connectivity. You'll often see them in home networks or wherever a few more ports are in need.
On the other hand, a managed switch like the FortiSwitch 148E PoE communicates across multiple networks while simultaneously providing built-in network security. It also improves the network's bandwidth by prioritizing packet requests.
And what, exactly, is PoE?
Power over Ethernet delivers electrical power to PoE devices using your CATx network cables. Since you don't need to run electrical wiring, PoE saves money in materials and install time. It's also flexible, especially for remote applications, since it doesn't require a nearby electrical outlet. These and other benefits have led to a big increase in PoE's popularity in recent years. However, the limiting factor has always been power.
The way PoE works is simple. Ethernet cable that meets CATx standards consists of four twisted pairs of cable. Simply put, PoE sends power over these pairs to PoE-enabled devices. First PoE standards use two twisted pairs to transmit data, while the remaining two pairs are used for power transmission. However, the new PoE standards allow power and data to be sent over all four twisted pairs.
We hear what you're thinking, and the answer is no. When the same pairs are used for both power and data, the power and data transmissions don't interfere with each other. That's because electricity and data are transported at opposite ends of the frequency spectrum. Electricity has a low frequency of 60 Hz or less, and data transmissions have frequencies that can range from 10 million to 100 million Hz.
Why a managed switch?
There is no ability to configure an unmanaged network switch because it lacks a "brain." A managed switch gives you the ability to manually configure, monitor, and manage the devices on your network.
The reason an organization would spend good money on a managed switch with all these heavy-duty features is simply this: managed switches give you greater security, more features, and flexibility. Consequently, you can configure them to custom-fit your network. With this greater control, you can better protect your network and improve the quality of service for those who access the network.
How do I manage all these functions?
A good switch should be simple to set up and manage. The FortiSwitch 148E (and all FortiSwitches) is tightly integrated into the Fortinet Security Fabric via FortiLink, an innovative proprietary management tool. This allows any FortiGate firewall to seamlessly manage any FortiSwitch. At that point, the FortiSwitch can be managed directly from the familiar, easy-to-grasp FortiGate interface.
Performance of the FortiSwitch 148E PoE
The FS-148E PoE has 48 GE RJ45, and 4 GE SFP ports. It delivers 104 Gbps of Switching Capacity, and 155 Packets per Second. Additionally, it has 3.86 ms latency. Lastly, it supports 4000 VLANS.
It carries 256 MB of DDR3 RAM, and 64 MB of Flash memory.
Features
Some features include Flow control, auto-negotiation, port mirroring, SNTP support, Link Aggregation Control Protocol, and IPv6 management. In addition, there's Protocol support, DHCP client, VLAN Tagging, and a lot more.
Who is the FS 148E designed for?
The 148E is ideal in converged network environments; enabling voice, data and wireless traffic to be delivered across a single network. Specifically it will suit threat conscious mid-sized to large businesses and branch offices.
Networks today are essential for supporting businesses, providing communication, delivering entertainment—the list goes on and on. And building a small business network is not possible without switches to tie devices together. It unites the computers, printers, and servers in a small business network seamlessly and safely.
So if you have any questions, give Corporate Armor a call at 877-449-0458. We are your Fortinet specialists! Of course, you can also email us at [email protected]