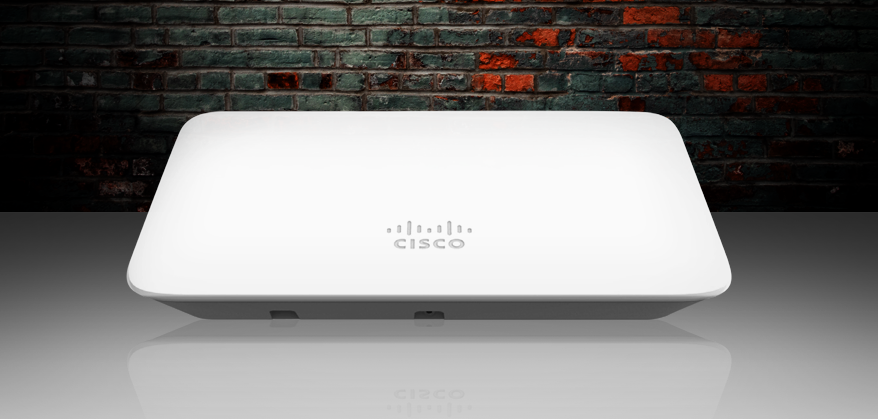 The MR20 is Meraki's entry level dual-radio, 100% cloud-managed access point. It is a 2×2:2 802.11ac PoE appliance with MU-MIMO support. As such, the MR20 is designed for basic, very low-density deployments. It delivers a maximum 1.3 Gbps aggregate frame rate with concurrent 2.4 GHz and 5 GHz radios. The combination of intuitive cloud management, 802.11ac Wave 2 wireless, and business-class security mean safe, reliable WiFi for your home office or small business network looking for basic connectivity.
MR20 vs MR33
For context, let's compare it to the next step up in the Meraki line of access points, the MR33. By comparison, the MR33 has a 3rd, dedicated scanning radio that can also map out interference. In addition, it also has a Bluetooth radio. These would help it perform better under load, or in denser RF environments.
By contrast, the MR20 has an 'opportunistic auto RF feature.' Basically, it needs to take one of its potentially client-serving radios offline, opportunistically, in order to perform such tasks. In a busy RF environment, it's possible for this radio to get "distracted" by doing too much at once, slowing down your Wi-Fi experience. Then again, you'll pay more for the extra radio in the MR33. If there is little-to-no other interference and plenty of spare channel capacity, the MR20 should serve you well, and for less money.
A little about Wave 2
The MR20 is what is called a Wave 2 access point. What does that mean, you ask? Well, Wave 2 is the second wave of wireless networking gear based on the 802.11ac standard. In addition, it also has a feature called MU-MIMO. Basically, this means that it can service multiple client devices using multiple antennae. That, plus wider channels, means Wave 2 hardware offers more throughput and better handling of multiple connections. Honestly, it's a pretty incremental improvement over Wave 1. The jump from 802.11ac to 802.11ax is a much bigger leap forward.
Super-simple set-up
Out of the box, the MR20 needs to be configured in your Meraki Cloud Management portal. But don't worry, it has a very user-friendly interface where you can easily enter all the settings your access point needs. Then, you simply connect the device to your network. And, since it's a PoE device, you have only one cable providing power and data. This simplifies things even further.
If the device is configured in the Meraki Cloud, you just plug it in and power it on. It's that simple. Your AP will update with its configuration, installing any firmware updates at the same time. This usually takes about 10 to 30 minutes. Of course, further updates are scheduled well in advance and come of no surprise when they happen.
Under the hood
The MR20 has two radios, a 5GHz and a 2.4 GHz, with a combined frame rate of 1.3 Gbps. It has built-in WIPS for threat detection and remediation, as well. WIPS is a security sensor, a network device that monitors the radio spectrum for unauthorized access points (intrusion detection). WIPS can automatically take countermeasures (intrusion prevention). It's sort of like the bouncer checking IDs at the door of your little Wi-Fi club.
Final thoughts
This device is a flat-out super-easy way to manage a faraway branch network. The MR20 is easy on the nerves, and easy on the wallet. It helps to manage your network remotely without an IT guru on site. At the same time, the MR20 gives users the ability to connect wirelessly to our network.
The Meraki MR20 is a very good access point for small to medium sites in low-to-moderate RF traffic environments. It gives you the ease of clean, simple, safe cloud-management. Additionally, it gives excellent user connectivity, reliability, and security for what you spend.
And Corporate Armor gives you uninterrupted 5-star service and years of specialization in Meraki's whole family of products. So call us at 877-449-0458, or email us with any and all questions. The very best solution for you is the only goal we have. Thanks for reading, and we can't wait to serve you!