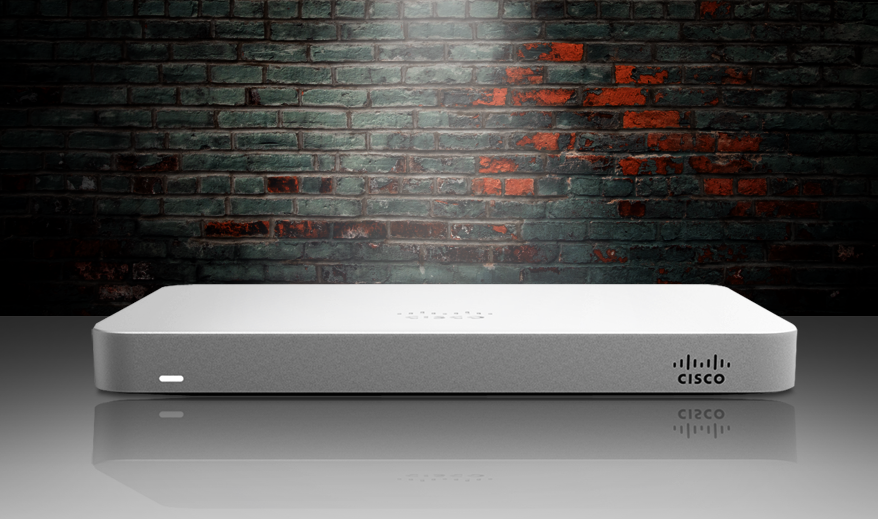 Over and over, customers and colleagues alike sing the same song about Meraki. And the refrain is; simple to set up, easy to use, a breeze to manage.
Because 'non-technical' people need firewalls, too!
Meraki's MX series of firewalls are so reassuringly easy to set up and operate that the MX67 (from $410), MX68 (from $585), and MX84 (from $1,300) are among our most popular security appliances. Well, the Meraki MX64 firewall is humming to the same tune!
It's easy to see why this is one of Corporate Armor's most popular firewalls. You get Stateful Firewall Throughput of 250 Mbps, and incredible ease-of-use, starting at just $350.
The MX64 is Meraki's nifty entry-level firewall. This affordable, friendly little appliance puts non-IT types at ease. With it's 'snap' deployment, MX64 can be installed in seconds. And, it's completely cloud-managed. Once up and running, it then gets all of its firmware upgrades through an SSL connection. The VPN can be set up in 5 minutes.
Okay, it's easy to use. But what can the Meraki MX64 do?
For one thing, the Meraki MX64 has built-in SD-WAN capability. That adds networking ability to the mix that not all firewalls have. That's not only a convenience, but a potential savings, as well. Plus, it greatly simplifies life for the non-IT professionals this appliance was designed for.
The MX64 has firewall throughput of 250 Mbps and VPN Throughput of 100 Mbps. Additionally, it can support up to 50 users and 50 VPN tunnels. And you can stack them for more bandwidth.
And, the Meraki MX64 can support up to 50 users and 50 VPN tunnels.
Who is the MX64 a good fit for?
This firewall is ideal organizations with limited IT resources. It's great for protecting networks busy with inexperienced users. For example, small businesses, busy schools, and colleges.
MX 64 offers protection while streamlining most administrative functions. And, since it's a Layer 7 firewall, MX64 can enforce quite granular content filtering options. For instance, you can grant greater access to individuals, groups, or applications based on specific criteria.
It's a great thing that a small IT budget doesn't have to mean weak security. And with the Meraki MX64, you have one that also integrates with other devices and self-configures.
But no matter the size of your network, the Meraki cloud management software that comes with the MX64 will keep you protected.
The verdict…
In conclusion, the Meraki MX64 is well-suited as a primary edge firewall for your remote office, small business, or campus. It can actually be configured while the firewall is shipping. Then, when the product arrives, it's power up, plug and play! After that, you'll enjoy an elegant, single pane of glass view of what you're protecting.
If you have any questions, please contact Corporate Armor anytime. You can call 877-449-0458, or you can hit us at [email protected]. Thanks for reading!
Meraki MX64 At a Glance
| | |
| --- | --- |
| Advanced Security Throughput | 200 Mbps |
| Max VPN Tunnels | 50 |
| VPN Throughput | 100 Mbps |
| Maximum Client Devices | 50 |
| Stateful Firewall Throughput | 250 Mbps |
| SD-WAN Ready | Yes |
And check out our "Firewall Roundup" between FortiGate and Meraki MX series here!
Corporate Armor is very well-versed with both Fortinet and Meraki. We can happily recommend both in a broad way, but knowing what delineates them might be helpful when it comes time for you to shop for a firewall. Many of our top-selling models come from these two companies. The FortiGate FG40F, from $362, the FG60F, from $508, the Meraki MX64, from $350, and the Meraki MX68, from $586, are hugely popular.
| | | |
| --- | --- | --- |
| Comparables | FortiGate 100E | Meraki MX100 |
| Firewall Throughput | 7.4 Gbps | 750 Mbps |
| VPN Throughput | (SSL VPN) 250 Mbps | 500 |
| IPS | 500 Mbps | 750 Mbps |
| Users | 500 | 500 |