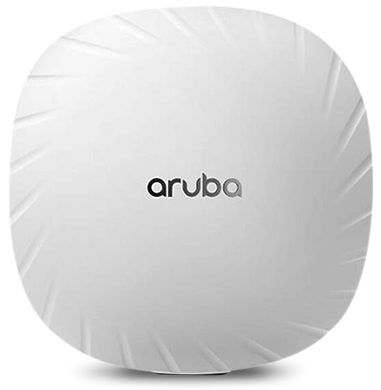 Aruba AP535 Wi-Fi 6 access point
The Aruba 530 Series consist of the Aruba AP535 Wi-Fi 6 access point, and the AP 534 access point. The difference is the AP535 has integrated antennas, while the AP534 has external ones. Check out the datasheet for more information on that. Most of what is said here will apply to both models. The 530 series are high-end 802.11ax access points. Which is to say, they're Wi-Fi 6 access points. They provide extremely fast gigabit speeds and superb, easy user experience for high-density environments.
As with other Aruba APs, you can run the Aruba AP535 either controller-based, or controlerless (Instant) mode.
When deployed with an Aruba Mobility Controller, the Aruba AP535 offers centralized configuration, data encryption, and policy enforcement. It will also give you network services and distributed and centralized traffic forwarding.
In controllerless (Instant) mode, the controller function is virtualized in a cluster of APs. As the network grows or requirements change, Instant deployments can easily migrate to controller-based mode.
Specs and features of the Aruba AP535
The Aruba AP535 accomplishes 2.4 Gbps in the 5GHz band, and 1.147 Gbps in the 2.4GHz band. This gives it a concurrent data rate of 3.97 Gbps. The AP535 is ideal for all sorts of high-density office environments. The 802.11ac 330 Series supports 160 MHz channel bandwidth (VHT160), 4-stream multi-user MIMO and 4 spatial streams. They also provide simultaneous data transmission to multiple devices, maximizing data throughput and improving network efficiency.
The Aruba AP535 Wi-Fi 6 access point provides connectivity for up to 1024 associated clients per radio (2048 in total). In real-world scenarios, the maximum recommended client density depends on environmental conditions.
What we like about the Aruba AP535
The Aruba AP535 has great, easy-to-use technology, and has great range! It's easy to set up multiple AP's, including guest access. There is no dedicated controller needed, although it is a snap to employ one, and they are excellent in their own right. Simply power up, plug it into your network, and connect.
Even if you are not familiar with Aruba products, they are easy to master quickly. And if you need to reconfigure, using Instant Mode makes configuration straightforward. Support gets consistently high marks, and the Airheads online community is top notch.
Initial config is a snap. And with the aforementioned ARM technology, you can automatically assign channel and power settings. You can also provide airtime fairness and ensure that APs stay clear of all sources of RF interference. This will ensure reliable, high performance WLANs.
Summary
The Aruba AP535 is excellent for enterprise companies. It is very well suited for organizations that require a large number of wireless access points and need simple intuitive management over them. And when it comes to Wi-Fi management, Aruba gives you the flexibility to choose.
Since we have years of Aruba experience, Corporate Armor is your best bet if you want to find out more about the Aruba AP535 Wi-Fi 6 access point. Have questions? Call 877-449-0458, or email us at [email protected].
Highlights
Choice of operating modes; Controller mode, and Aruba Instant mode
Built-in technology that resolves sticky client issues for Wi-Fi 6 and Wi-Fi 5 devices
OFDMA for enhanced multi-user efficiency
Aggregate rate of 3.97 Gbps
View all Aruba lines.
Learn more!