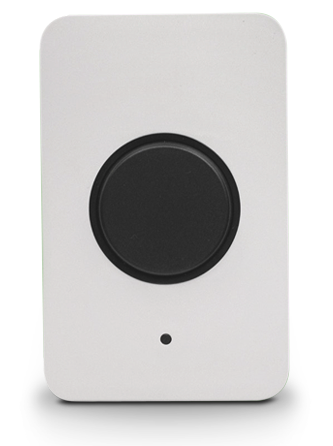 Meraki MT30 Cloud-Managed Smart Automation Button
The Meraki MT30 is a smart automation button that automates common tasks or triggers specific actions at the press of a button. The MT30 comes with an Automation Builder feature on the Meraki dashboard that makes it easy to build customized workflows for your business. This includes native integrations with other Meraki products.
What does that mean?
For example, the MT30 can alert staff members when a customer needs assistance, with the click of a button, It can turn off Wi-Fi to help students focus in school, replenish material on a manufacturing line, or control office lighting to decrease energy consumption. With MT30 and the cloud-first Meraki platform, anything is possible.
And like everything Meraki makes, the Meraki MT30 is easily and masterfully controlled from the cloud. Meraki's cloud platform allows you to deploy anywhere, and control everything real easy.
How do MT's communicate with the Meraki Dashboard?
MT Sensors use BLE to communicate with Meraki IoT gateways. Supported IoT gateway devices are 2nd Generation MV's and Wi-Fi 6 MR's. Specifically, those are the MV12(N/W/WE), MV22(X), MV32, and MV72(X) cameras. This also includes the MR36, MR45, MR44, MR46, MR46E, MR55, MR56, MR76, and MR86 access points.
Instead of a standalone hub, the MT sensors connect using Bluetooth® Low Energy to existing Meraki Wi-Fi 6 MRs or Meraki MV cameras in your network to gain access to the Meraki Dashboard.
As long as the sensor is within range of the gateway, the MT30 will automatically pick up the BLE signal and connect. And flexible mounting, battery or wired power options, and automatic Bluetooth® pairing make it easy to provision thousands of sensors in a short amount of time.
Currently, five other sensor types are available: the Meraki MT10, MT11, MT12, MT14, and MT20. The MT10 tracks temperature and humidity, the MT11 is an indoor temperature probe sensor, the MT12 detects water leaks, the MT14 monitors indoor air quality, and the MT20 detects the opening/closing of a door.
And the MT30 is secure!
Of course it is! Each Meraki MT sensor features a Trust Anchor module. This securely authenticates the device and encrypts all communication with the sensor gateways. Combined with automated firmware updates, the MT30 packs a powerful security punch in a smart package.
Cloud management at its' very best
Nothing new about this; Meraki's extremely innovative web-based dashboard has revolutionized networks everywhere. It now brings the same benefits to networked environmental sensors. Huge benefits like zero-touch configuration, remote troubleshooting, and the ability to manage multiple sites through a single pane of glass. Meraki's dashboard makes all this a snap.
And sensors can be easily accessed from anywhere, on virtually any device, like laptops, desktops, and mobile tablets. Corporate Armor are Meraki specialists, and we would love to help you out or tell you more about the Meraki MT30. So please reach out to us here, or call 877-449-0458.
Meraki MT30 highlights
Gain value from existing infrastructure by remotely automating MV, MR, and
MS features
Automate from anywhere with events triggered directly from the Meraki mobile app
Never miss an event with real-time alerts via email, SMS, push notification, or webhook
Cloud-based management eliminates the need for on-premises servers
View all Meraki lines.
---
Learn more!