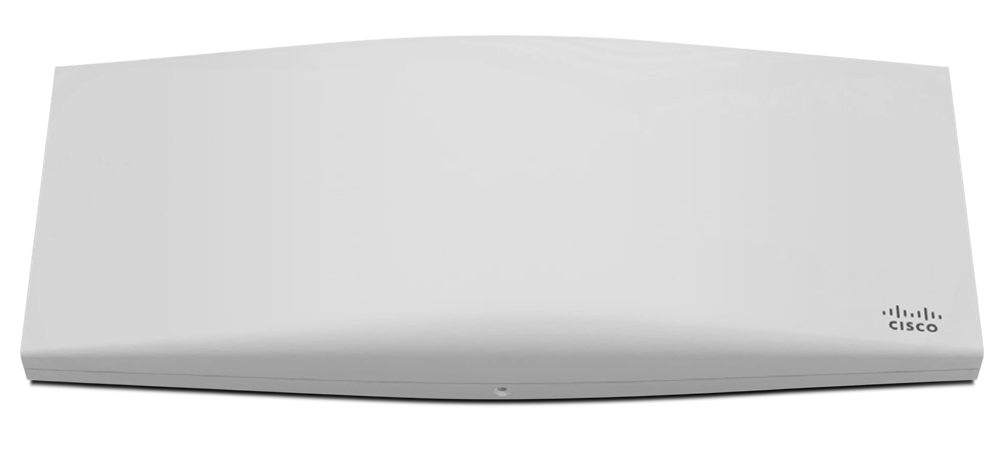 Meraki MR45 Wi-Fi 6 access point
The Meraki MR45 is a cloud-managed 4×4:4 802.11ax MU-MIMO access point. It's designed for high-density public environments. And, since it's a WiFi 6 access point, it's ideal in homes with intensive internet use. Also, it is designed for faster browsing and downloading from mobile devices. Companies with 5G deployments, as well as offices with high-bandwidth usage would also benefit.
Under the hood
With concurrent 2.4 Ghz and 5 Ghz radios, the MR45 provides a maximum of 3.5 Gbps* aggregate frame rate. Plus, there's a dedicated third radio that provides real-time WIDS/WIPS with automated RF optimization. Additionally, there is a fourth integrated radio on board that delivers Bluetooth scanning and beaconing. It pushes 2.5 Gbps muultigigabit ethernet, good for high-density uses.
Cloud-nine Cloud Management
Out of the box, it needs to be configured in your Meraki Cloud Management portal. However, that shouldn't be a problem since all Merakis are renowned for simple, drag-and-drop setup. There's a very user-friendly interface where you can easily enter all the settings your access point needs. Thwn, you just connect the device to your network.
Plug-and-play simple
If the device is configured in the Meraki Cloud, you just plug it in and power it on. It's that simple. Your AP will update with its configuration and will install any firmware updates at the same time. Of course, further updates are scheduled well in advance and come as no surprise when they happen.
In addition, the MR45 is also super-easily, super-safely cloud managed. Lots of access point makers tout this; Meraki accomplishes it better than almost anyone. And, Meraki's WiFi 6 AP, MR45, is no different.
In conclusion
No matter your needs, Corporate Armor is Meraki certified, and we are well able to guide you into the very best solution for your case, whether it's the MR45 or something else. We would LOVE to fill in any information you still need on MR45 or any other Meraki. Our advice will be driven by your unique needs, nothing more. So please reach out to us here, or call 877-449-0458. We are Corporate Armor, and we can't wait to serve you!
Configure Your Meraki MR45
---
Cisco Meraki Enterprise License Options
Cisco Meraki MR45 Enterprise License:
---
Meraki MR45 Wi-Fi 6 access point At a Glance
802.11ax Wi-Fi 6
Concurrent 5 GHz and 2.4 GHz radios
3.5 Gbps Max Aggregate Frame Rate
Bluetooth radio for scanning and beaconing
Incredibly easy to set up and manage
View all Meraki lines.
Cisco Meraki MR45 Accessories
---
Read more