Cradlepoint AER2200 router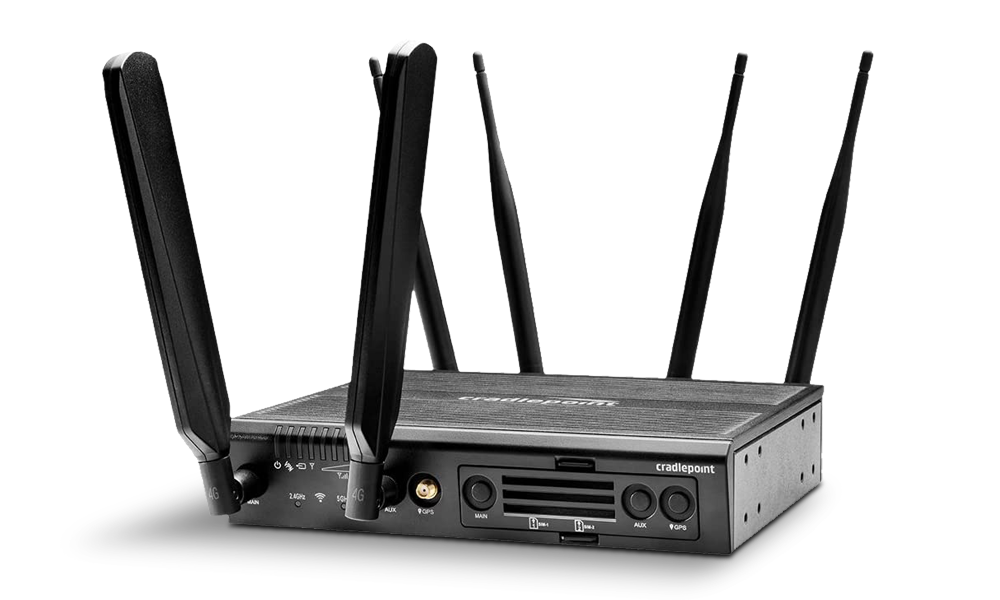 The Cradlepoint AER2200 is an industrial wireless 4G router, which uses 4G LTE as its internet connection. It boasts a 4×4 MIMO dual LTE cellular antenna. Plus, it features LTE and WiFi, GPS, dual SIM card slots, and dual Ethernet ports.
It has an LTE-A modem, an internal space to add an optional second LTE modem. And, it has multiple ethernet ports – including some which support power-over-ethernet for providing both power and data to supported remote devices with just a single cable.
The AER2200's WAN Connectivity is 4G Cat 6, and LAN Connectivity is Wi-Fi 4. Also, the AER2200 comes in both Category 11 and Category 18 modem options. Its Category 11 LTE modem offers 600 Mbps download speeds, and 75 Mbps upload speeds. The Category 18 version delivers 1,200 Mbps download and 150 Mbps upload speeds. It has 802.11ac Wi-Fi, as well as LTE-Advanced Carrier Aggregation of 2x 20MHz. As a result, the AER2200 is perfect for powering surveillance cameras, access points, manager's PCs, etc.
NetCloud IoT Package
The Cradlepoint AER2200 is sold as a package with NetCloud. It is a secure networking plan built for Internet of Things and machine-to-machine uses. Basically, it's similar to the bundles that firewalls often come with. In a nutshell, his cloud service adds greatly to the features and capabilities of your router. For example, NetCloud offers secure, cloud management and control of your 2200. NetCloud is available in one, three, and five-year subscriptions. These include 24×7 support. Read our article to learn about your NetCloud options.
If you need to provide wired networking and powerful Wi-Fi to an entire remote office, or you need a second dedicated cellular modem for instant failover or load-balancing – the Cradlepoint AER2200 could be a great option. And, if you have any further questions about the AER2200, Wi-Fi, LTE, or anything else, please email us or call 877-449-0458.
Cradlepoint AER2200 highlights:
WAN diversity: wired/wireless or fully wireless
Dual-modem and multi-carrier support
Comes with either Category 11 and Category 18 modem
4×4 MIMO dual LTE cellular antenna
Delivers up to 1,200 Mbps download and 150 Mbps upload speeds
View all Cradlepoint lines.
---
Read more
Don't see what you're looking for? Give us a call at 877.449.0458.