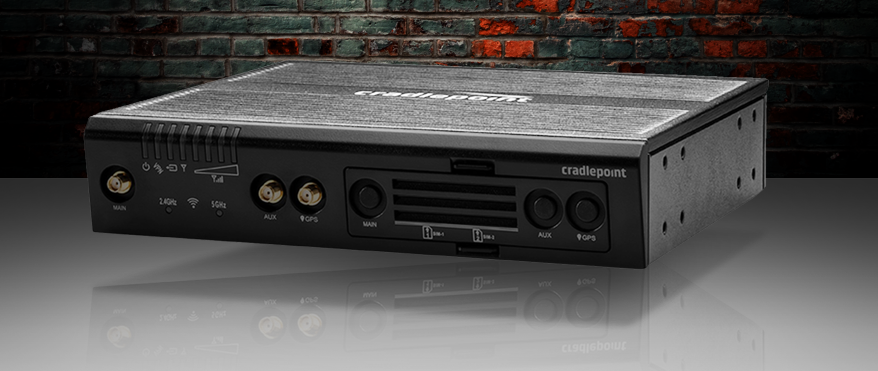 We'll be talking about the Cradlepoint AER2200 industrial wireless 4G router today. The AER2200 uses 4G LTE as its internet connection. It has a 4×4 MIMO dual LTE cellular antenna. Plus, it features LTE and WiFi connections, GPS, dual SIM card slots, and dual Ethernet ports.
Basically, the Cradlepoint AER2200 sort of the 'big brother' of the AER1600. It has an advanced LTE-A modem, has internal space to add an optional second LTE modem, and many more ethernet ports. Some of which support PoE for providing both power and data to supported remote devices with just one cable.
What is a router, exactly?
Basically, a router does one simple thing – connect two or more devices to the same network. It can be used for mainline or back-up connectivity. A basic home router can simply inter-connect the devices within your home or office and nothing else. For instance, if you want to print a photo from your smartphone to your home printer, all you have to do is connect the two devices to the router's wireless hotspot.
Now, since your home router is using WiFi, it doesn't need internet to do these things. Therefore your router doesn't need to have a simcard to pick internet from your mobile network of choice.
That said, routers can hook your devices to all sorts of networks. They can be your own little home network (LAN), in which case your router is simply inter-connecting your devices so that they can talk to each other. For example, you can connect your laptop and smart TV to the home WiFi network created by your router. In addition, you can connect to your mobile operator's network with or without cables.
But the Cradlepoint AER2200 is more than just a home router, right?
Yes. For starters, LTE routers like the AER2200 contain a built-in LTE broadband modem. Plus, they enable local Wi-Fi and/or Ethernet devices to share the LTE connection.
They can also have some additional features such as firewall, layer 7 filters, DHCP server, and advanced QoS. What's more, the 2200 supports up to 248 connected devices.
Performance of the AER2200
The AER2200's WAN Connectivity is 4G Cat 6, GbE, and LAN Connectivity is Wi-Fi 4, GbE. The 2200 is offered in both Category 11 and Category 18 modem options. It's embedded Category 11 LTE modem offers 600 Mbps download speeds, and 75 Mbps upload speeds. The Category 18 version delivers 1,200 Mbps download and 150 Mbps upload speeds. It has 802.11ac Wi-Fi, as well as LTE-Advanced Carrier Aggregation of 2x 20MHz.
The AER2200 is often used to power surveillance cameras, access points, manager's PCs, etc.
What's the difference between Wi-Fi and LTE?
LTE and Wi-Fi serve different purposes. LTE modems are an evolution of the cellular connectivity that normally provides Internet access to your mobile phone. Wi-Fi works best for servicing wireless local area networks while LTE works well for long-distance communications and roaming. LTE is often used for temporary applications, or as backup in case of failure of the primary connection.
LTE as a temporary Internet connection makes sense because of one of LTE's advantages; it's super quick and easy to set up. In the business world, this speed and flexibility can be a short-term lifesaver.
However, LTE is definitely ideal as permanent connectivity for a large variety of fixed, and mobile use cases. There could be various reasons for using an LTE router for permanent, primary Internet connectivity. Some of the most common examples would be retail stores or pop-up shops where there is a lack of wired connectivity.
The ultimate mobility of course is with vehicles, where Internet connectivity can easily be provided by LTE routers. For example, think of cases where the vehicles are part of a mass transportation system such as buses or trains. For these vehicles, LTE routers can provide Internet connectivity for passengers in the form of WiFi. Some other uses include mobile clinics, first responders, and law enforcement.
NetCloud IoT Package
The AER2200 is sold as a package with a cloud-based plan called NetCloud. It is a secure, cloud-based networking plan built for Internet of Things and machine-to-machine uses. It's similar to the bundles that firewalls often come with. This cloud-based service adds greatly to the features and capabilities of your router. For example, NetCloud offers secure, cloud-based management and control of your 2200. Netcloud is offered in three and five-year software subscriptions that include 24×7 support.
In addition, there's the option of the Advanced Plan, with NetCloud Perimeter. It provides critical security protocols for IoT networks. Also, it adds remote connect, out-of-band management, advanced VPN and tunneling, and location-based services.
In conclusion, if you need to provide wired networking and powerful Wi-Fi to an entire remote office, or you need a second dedicated cellular modem for instant failover or load-balancing – the Cradlepoint AER2200-600 Mbps and AER2200-1200 Mbps might be worth a look. And, if you have any further questions about the 2200, Wi-Fi, LTE, or anything else, please email us or call 877-449-0458. Thanks for reading!