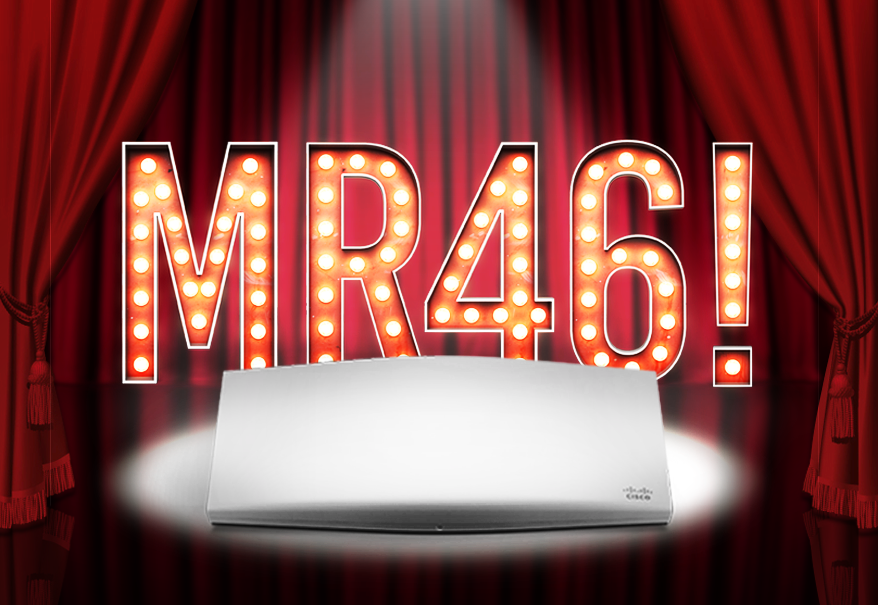 There's no danger of losing the Meraki MR46 access point in the shuffle between it's siblings. The MR36, MR46, and MR56 are teammates, and between them they WILL redefine your wireless world, no matter what sort of workout you put your access points through!
Meraki devices well-loved for simple, drag-and-drop setup. In addition, they are also super-easy, super-safe to cloud-manage. All of them. Lots of access point makers tout this; Meraki accomplishes it better than almost anyone. And, Meraki's mid-level WiFi 6 AP, MR46, is no different.
It's easy to see why this is one of Corporate Armor's most popular access points. You get a Wi-Fi 6 access point with an aggregate frame rate up to 3.5 Gbps, starting at just $958.
So what makes the Meraki MR46 stand out?
The MR46 is an upgrade (already!) to the MR45, released last year. Now, the main difference between the two is that the MR46 has full UL/DL OFDMA. And, if you're wondering "what the bleep does THAT mean?" Well, OFDMA is a feature that serves multiple users simultaneously. As a result, you get better coverage, lower interference, and improved flexibility.
Now, what's the difference between the MR46 and it's mates the MR36 and MR56? Basically, price and the number of radios. The MR46 is their new mid-range model, with a 4×4 radio setup. Therefore, it'll be the best option in terms of price vs. performance. Features are pretty much the same.
Of course, being Meraki devices they are reassuringly easy to learn and use. Meraki tends to release small upgrades in quick succession, like the MR55 to MR56. In this way, users can learn their new hardware quickly and comfortably.
Under the hood
Meraki MR46 boasts all the standard features for Meraki, such as an extra security radio for local environment scanning, monitoring, and intrusion detection. In addition, there is a bluetooth beacon.
It carries 4×4:4 UL/DL MU-MIMO and OFDMA (the MR36 is 2×2:2). Additionally, it pushes 2.5 Gbps multigigabit ethernet, good for high-density uses.
A little about WiFi 6
Obviously, each new increase in the WiFi standard has meant a boost in performance. Unfortunately, the gradual gains have not kept pace with demand. That's why "The wireless here s@#%ks!" is such an ongoing refrain in airports, hotels malls and offices worldwide. However, WiFi 6 is designed specifically for such high-density settings.
Here's the thing. In WiFi, bandwidth is shared among endpoint devices. And, when you are in a high-traffic are with lots of access points, their coverage areas will overlap. Think stadiums, concerts, or busy airports. So, as you walk through your airport, you can be moving from one access point to another.
Currently, your endpoint listens for an all-clear signal before transmitting. Basically, it waits it's turn to speak. So here you are, moving through your airport. Your endpoint (phone) is one of maybe thousands of APs and endpoints yelling and hiccuping at each other trying to be heard. It's sort of like the floor of the New York Stock Exchange. Get enough devices in the same area, efficiency and performance suffer.
So, what WiFi 6 does, is it opens up more lines for endpoints to talk on, so they don't have to wait as long for their turn. It also allows more data into each packet, which can increase total throughput nearly 40%.
The Meraki MR46 is a good fit for you if…
In addition to high-density public environments, WiFi 6 is ideal in homes with intensive internet use because it was designed for faster browsing and downloading from mobile devices. Companies with 5G deployments, as well as offices with high-bandwidth usage would also benefit.
However, no matter your use case, Corporate Armor is your best bet if you're interested enough to have made it down here to the end of this article. We are Meraki certified, and would LOVE to fill in any information you still need on MR46, or any other Meraki. Our advice will be driven by your unique needs, nothing more.
So please reach out to us here, or call 877-449-0458. We can't wait to serve you!
Meraki MR46 Wi Fi 6 AP
It will surprise nobody that the MR46 shares Meraki's simple set-up, smooth and easy roaming, lowered battery usage and huge number of total users!
| | |
| --- | --- |
| 802.11ax Access Point | |
| Up to 3.5 Gbps Aggregate Frame Rate | |
| 2.4 GHz & 5 GHz concurrent radios | |
| 4×4 radios = Large # of Connections | |
| Stateful Layer 3-7 Firewall | |
| Great for High-Density Deployments | |