When the Fortinet FG-90G recently escaped from the lab, IT types everywhere immediately started gobbling up datasheets and poring over its' features and specs with feverish excitement. And why not? The FG-90G re-starts the 90-series, which had ended back with the EOL of the FortiGate 90G.
The FortiGate 90G fills a certain niche between the little SMB firewalls like FG-40F and FG-70F, and the bigger 1U appliances like the FG-100F and the FG-200F. Guess you could call it the desktop firewall juicing up on steroids niche.
And speaking of the FG-100F, we're going to be comparing it to the FG-90G. It may seem strange to do a side-by-side between a desktop, SMB firewall and a higher-end 1U firewall. But you'll see that the only thing small about the FG-90G is it's physical size.
The case for the FortiGate 90G over the FortiGate 100F
Fortinet has always prided themselves on their chip sets. Instead of outsourcing their chip production to 3rd parties like a lot of other firewall companies do, Fortinet develops their own. Because of this, FortiGates have some impressive architecture.
Chipsets
The first difference between these two is their chipsets. Now until recently, all the newest FortiGates had the very advanced, proprietary SOC4 chip. The SOC4 allows for a CPU, content processor, and network processor all to live on the same chip. And that means higher performance, less latency, and less power usage than previous models. It was, and still is, a very advanced technology. It's what powers the FG-100F.
But, Fortinet being Fortinet, they weren't satisfied with that. So along comes the FortiSP5 ASIC. ASIC stands for "application specific integrated circuit. It's just the latest, most powerful version of their SOC (system on a chip).
ASICs are circuits designed for specific tasks or applications. They are commonly used in mobile phones and other consumer devices to make them more efficient or perform specialized functions.
FortiSP5 consists of a fifth-generation, 7-nm chip with an application-specific design. It also has embedded multi-core processors that "accelerate the convergence of networking and security functions," Fortinet says. In English that means 17x faster firewall performance than standard CPUs! It also pushes 3.5x faster NGFW performance compared to standard CPUs and 32x faster encryption to protect data and secure virtual private networks. And this is the processor under the hood of the FortiGate 90G.
In addition, FortiSP5 offers 88% less power consumption compared to the industry-standard CPUs.
FortiGate 90G vs 100F: Horsepower
What all this means is that the FG-90G is fast. Real fast. And that's always been sort of a hallmark of FortiGates. Here's where we insert our helpful, SEO-friendly Comparison Chart: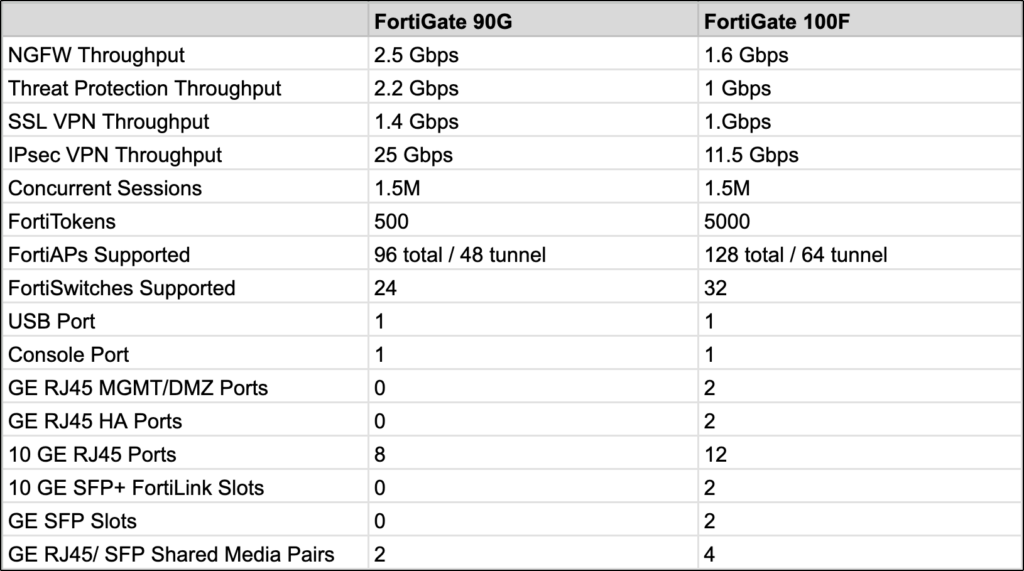 But the fact is, the FG-100F is a FAST firewall, and compares well to its' competition. For example, it has greater IPsec VPN Throughput than the Palo Alto PA 5220 (11.5 Gbps/9.5 Gbps). Total firewall throughput is about the same, but they have different features enabled, so it's a bit of an apples to oranges comparison.
And, it has much greater IPsec VPN Throughput than the SonicWALL NSa 2700 (11.5 Gbps/2.1 Gbps). In fairness, the NSa 2700 has greater IPS Throughput (3.4/2.6 Gbps). But you get the point.
The case for the FortiGate 100F over the FortiGate 90G
You might wonder, then, if the FG-100F has been made obsolete by the FG-90G? The answer is no. There are advantages to the larger firewall, and some of them are due to it's greater physical size. The FG-100F simply has way more ports of various kinds. The FortiGate 90G has:
1x RJ45 Console and 1x USB Management Port
2x 10/5/2.5/ GE RJ45 or 10GE/GE SFP+/SFP Shared Media Ports
8x GE RJ45 Ports
By contrast, the FortiGate 100F has:
1 x USB Port
1 x Console Port
2 x GE RJ45 MGMT/DMZ Ports
2 x GE RJ45 WAN Ports
2 x GE RJ45 HA Ports
12 x GE RJ45 Ports
2 x 10 GE SFP+ FortiLink Slots
4 x GE SFP Slots
4 x GE RJ45/ SFP Shared Media Pairs
Another difference in favor of the FG-100F is that it has dual power supplies. These provide power supply redundancy. They are built-in, but it is worth noting that they are non-hot swappable. It also has 480GB of onboard storage (FG-101G), whereas the FG-91G offers 120GB of onboard storage.
Something else worth mentioning is, the FG-100F can support more devices. It can handle 5000 FortiTokens, up to 128 total FortiAPs, and 32 FortiSwitches. The FG-90G's numbers are 500 FortiTokens, up to 96 FortiAPs, and 24 FortiSwitches. These are ridiculous numbers for a desktop firewall.
Summary
The point of this whole thing isn't so much to pick a winner between the FortiGate 100F and the FortiGate 90G. That's because, as you can see, they each have their advantages. It just depends on what your needs are. And Corporate Armor has been partnered with Fortinet for a long time, so we're well qualified to help you with that decision, or answer any other questions you might have. Just email us, or call 877-449-0458. Thanks!
---
Learn more!