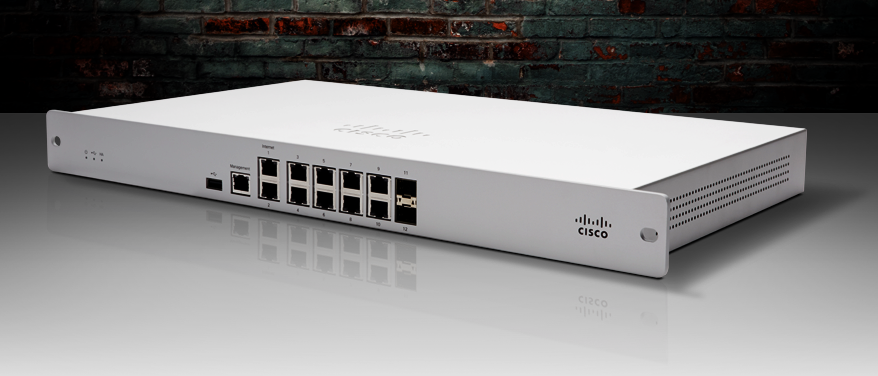 Over and over, customers and colleagues alike sing the same song about Meraki. And the refrain is, simple to set up, easy to use, a breeze to manage. Well, the Meraki MX84 firewall is humming along to the same tune!
The MX84 is Meraki's mid-tier Next-Gen firewall. This friendly, easy-to-setup appliance puts non-IT types at ease with it's 'snap' deployment. The MX84 is easy to configure even for people who have never done so before. Additionally, their tech support gets high marks. Plus, the MX84 is completely cloud-managed. Therefore, it gets all of its firmware upgrades through an SSL connection. The VPN can be set up in about 5 minutes.
Okay, it's easy to use. But what can the Meraki MX84 do?
The MX84 has Stateful Firewall Throughput of 500 Mbps and VPN Throughput of 250 Mbps. It also has Advanced Security Throughput of 320 Mbps. Additionally, it can support up to 200 users and 100 VPN tunnels.
What about features?
For one thing, the Meraki MX84 sports internally integrated SD-WAN technology. That adds networking ability to the mix that not all firewalls have. That's not only a convenience, but a potential savings, as well. It definitely simplifies life for the non-IT professionals this appliance was designed for.
Of course, you also get all the great features common to Meraki security appliances. Besides the stateful inspection firewall, it also boasts auto-configuring site-to-site VPN services, and IPSec client VPN. Meraki has one of the easiest VPNs to deploy on the market. Identity based policies can also be easily configured, which is critical for BYOD environments.
Additionally, you get traffic-shaping options for your Meraki network. There's full Layer 7 app visibility with per-app security and network configuration. And, there's built-in web caching for additional bandwidth savings. It can also automatically choose between the two WANs depending on traffic type.
MX 84 offers superb protection while streamlining most administrative functions. And, since it's a Layer 7 firewall, MX84 can enforce quite granular content filtering options. For instance, you can grant greater access to individuals, groups, or applications based on specific criteria.
Who needs the MX84?
This firewall is not only ideal for medium-sized businesses. It's also well-positioned to work within a wide variety of growing SMBs. And, because of the MX84's imminent scalability, it can keep up with high-demand environments in businesses of just about any size.
In conclusion, for a true mid-to-Enterprise sized firewall, you have an unexpectedly user-friendly appliance with the MX84. One that integrates with other devices and self-configures, in fact.
But no matter the size of your network, you can call Corporate Armor at 877-449-0458. Or, email us with any questions you may have. We have long experience with the Meraki family of products and solutions, and we can't wait to serve you!